If you can not read or see this document properly, follow this link
ARTOTEC Proposal GH-44095710 GUGGENHEIM MUSEUM HELSINKI Competition - 2014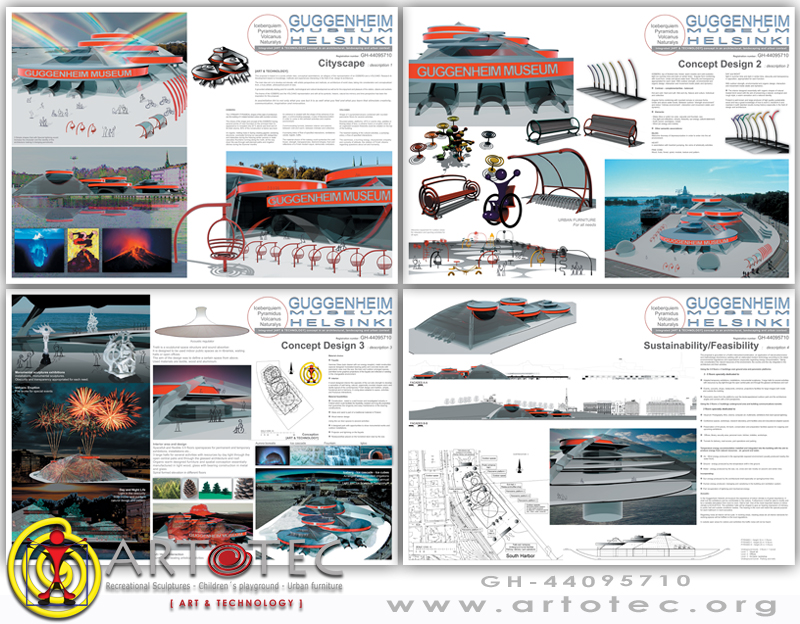 GALLERY GUGGENHEIM MUSEUM HELSINKI Competition - 2014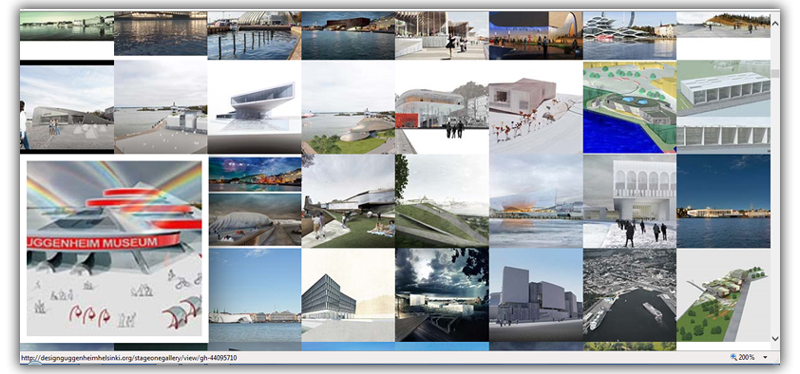 CITYSCAPE DESCRIPTION - GUGGENHEIM MUSEUM HELSINKI Competition - 2014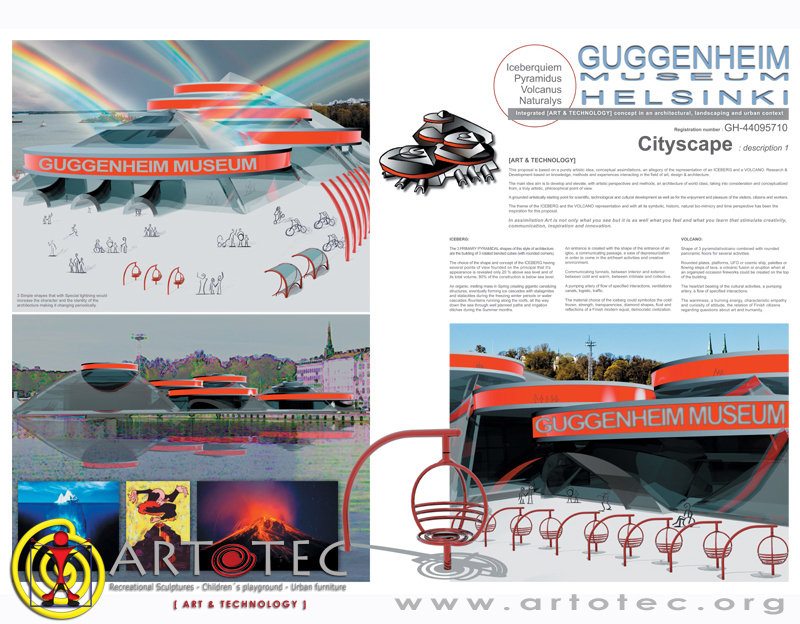 CONCEPT DESIGN DESCRIPTION I - GUGGENHEIM MUSEUM HELSINKI Competition - 2014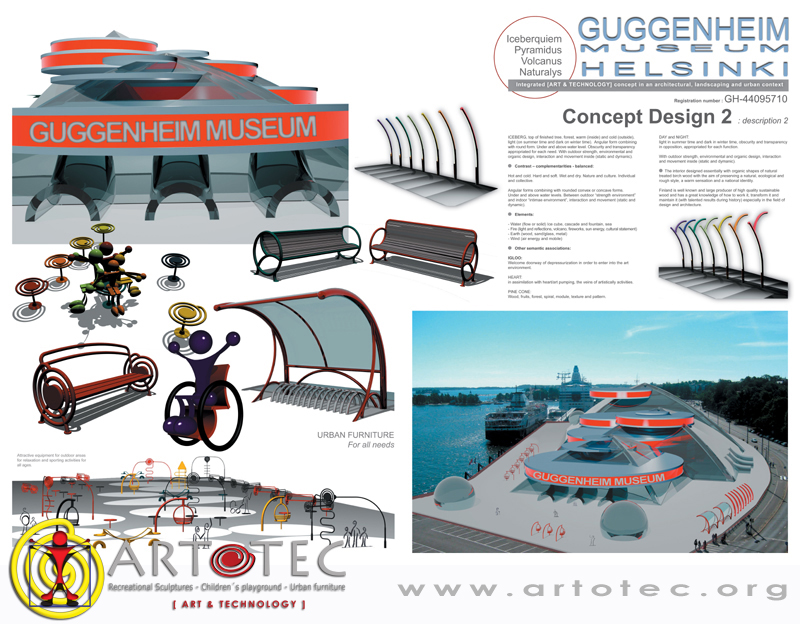 CONCEPT DESIGN DESCRIPTION II - GUGGENHEIM MUSEUM HELSINKI Competition - 2014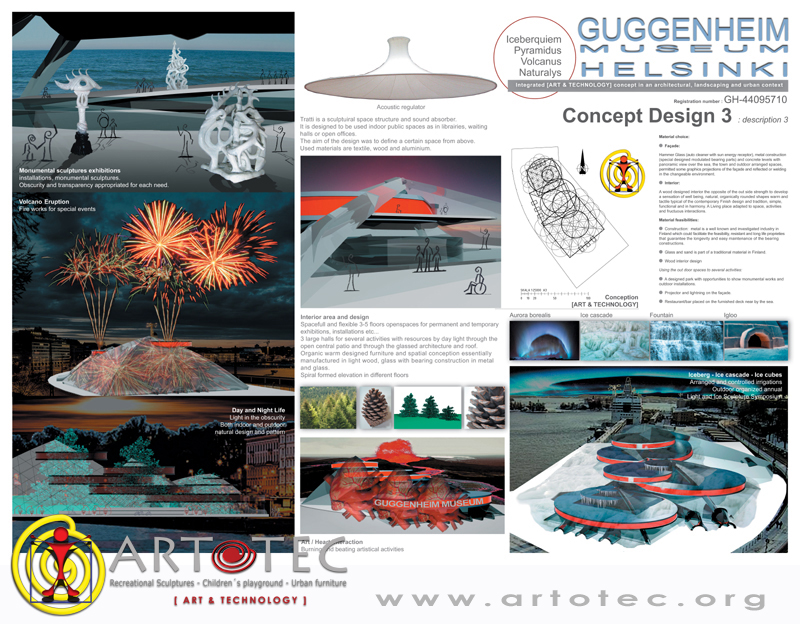 CONCEPT DESIGN DESCRIPTION III - GUGGENHEIM MUSEUM HELSINKI Competition - 2014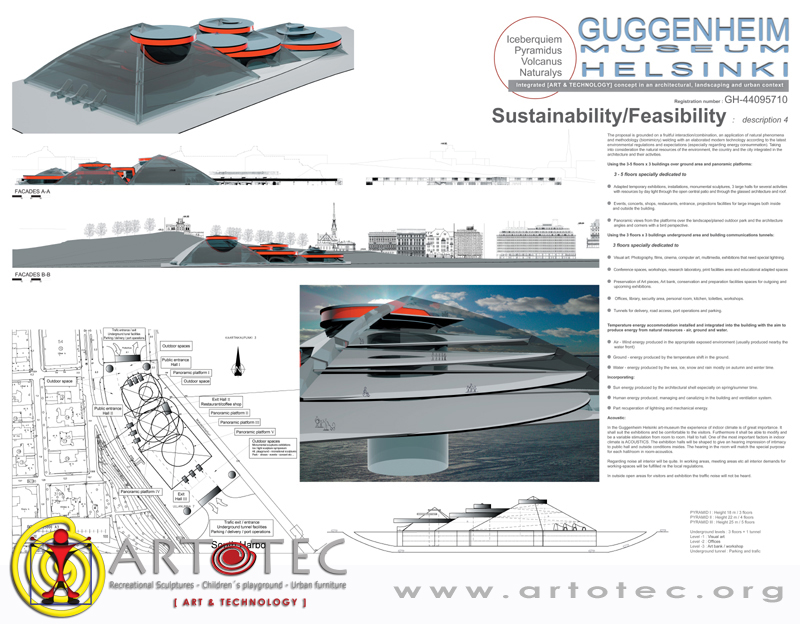 PRESS RELEASED - GUGGENHEIM MUSEUM HELSINKI Competition - 2014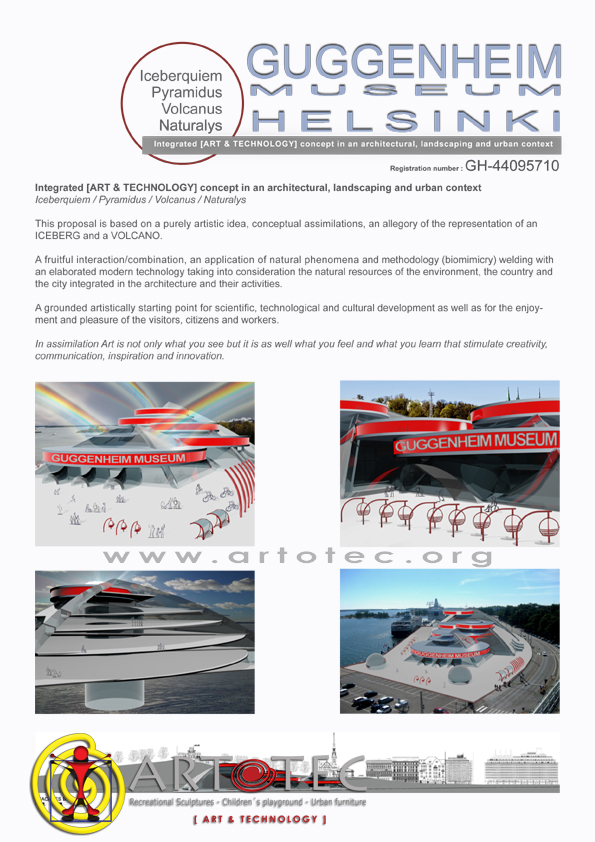 Download the document in PDF format

ARTOTEC-GH-44095710-Guggenheim-Helsinki-Design-Competition-2014-72dpi-A3.pdf

"Art is not only what you see but it is as well what you feel and what you learn that stimulate creativity, communication, inspiration and innovation."

Integrated [ART & TECHNOLOGY] concept in an architectural, landscaping and urban context.

Iceberquiem / Pyramidus / Volcanus / Naturalys

This proposal is based on a purely artistic idea, conceptual assimilations, an allegory of the representation of an ICEBERG and a VOLCANO.

A fruitful interaction/combination, an application of natural phenomena and methodology (biomimicry) welding with an elaborated modern technology taking into consideration the natural resources of the environment, the country and the city integrated in the architecture and their activities.

A grounded artistically starting point for scientific, technological and cultural development as well as for the enjoyment and pleasure of the visitors, citizens and workers.

Proposal created by
Frédéric Iriarte, artist, designer, CEO, founder
Former teacher att the Royal Institute of Technology of Stockholm (KTH)
in the field of Innovation & Design
ARTOTEC team



ARTOTEC´s products: The new quality, an expected turnover in the field!


Steel tubes 5 mm thick with high finish coating: extra-resistant polymer developed with anti-corrosion, anti-scratch, anti-graffiti treatment for high exposure environment or extreme use (optional) with insulating properties.

Or standard finish for milder environments.

The tubes are made from recycled materials and can be reused.

Good for the environment and good for the future.

Ergonomic handle, soft shapes and durable materials


Many possible combinations!

Choose from 200 colours of the RAL range of colours

Remember, our production time is 3 to 8 weeks depending on the order, colour or place of delivery!


ARTOTEC´s product catalog, art books and design, specifications, online orders with additional information (CAD DWG, modes of installation and maintenance, safety certificates to European standards and certificates of manufacture) are available. REQUEST MORE INFORMATION by sending an email to info@artotec.org
ARTOTEC´s catalog with:

News
Simple foundations
Product descriptions
Installations etc...

Competitive prices, 10-year warranty and long life!


Contact us for prices and delivery terms.

Place your order Online.

Attractive prices rivaling the prices of similar standard equipment, but with added value and new quality.

ARTOTEC will help you through the process of installation from the study of the site to the final installation of your product. At the implementation phase, ARTOTEC will assist you in the development and installation of your project. From the reception of your equipment to the performance check.
Our aim is to ensure, measure and optimize the quality of your installation while maintaining the security of its equipment and ensuring the respect for the environment.

Depending on the choice of product, colours, type of foundation and the quantity, place of delivery prices can vary and be more beneficial to the client.

We will guide you to choose the best alternatives.

With a possible price adjustment and product reservation.

ARTOTEC concept [Art & Technology] for the pleasure of all!

A signature for quality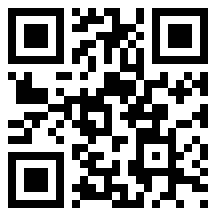 Scan this QR code for instant access to the mobile site ARTOTEC.